It was not only the best

carrot

cake I've eaten, it's the best

cake

I've ever eaten! I kept shaving little pieces off. I don't usually eat cake but I just couldn't stop!"
Carey R.
Asheville, NC

World Best Carrot Cake on Fox News
"I ordered the cake for my friend, who said it was the best carrot cake she ever had! Thank you for the decorations - everything was beautiful!"
Enely N. Florida




Gluten Free Review of World's Best Carrot Cake


"Thank you for making such a wonderful gluten free option! It's so hard to find moist gluten free cakes, but yours is perfect!!"
Betsy O.,
Clemson, SC


"And its name is right on. Seriously folks, this stuff is dangerous. You will be talking about it for days. You will be craving it minutes after you finish a slice… I could go on, but I think you all get the idea: "World's Best Carrot Cake" = gluten-free crack."
The Good Eatah Gluten Free Blog
World's Best Carrot Cake
This gourmet carrot cake is 100% all natural and full of luscious, juicy, organic carrots. Using our old family recipe our bakers create and ice each cake by hand and finish these rare carrot cakes with rich and creamy cream cheese-walnut icing. Our customers routinely tell us this is THE BEST CARROT CAKE they have ever eaten! This 8", three-layer World's Best Carrot Cake will serve 12 to 16 and weighs about five pounds. BUY NOW! Have your World's Best Carrot Cake Delivered!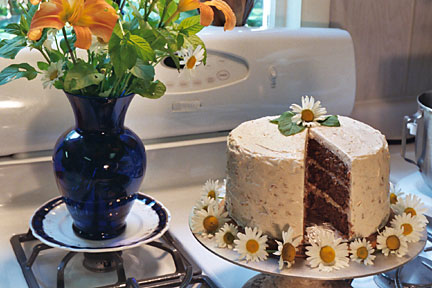 $38.00 + Shipping & Handling
BUY NOW! We deliver the best carrot cake in the world!
Our handmade carrot cakes start in the mountains of North Carolina with a special family recipe and are then shipped to your table fresh, delicious and ready to enjoy!
All of our fabulous cakes – All Natural Carrot Cake, Gluten-Free Carrot Cake, Chocolate Gluten-Free Carrot Cake, and Orange Citrus Vegan Carrot Cake start with only the best ingredients: sweet, juicy, organic carrots, fresh eggs, velvety cream cheese, smooth dark chocolate, hand-grated citrus zest and the purest flours. Each and every Worlds Best Carrot Cake is made by hand, from scratch, in small batches with care and love. We use the best carrot cake recipe in the world. It's that simple and it is truly the World's Best Carrot Cake!